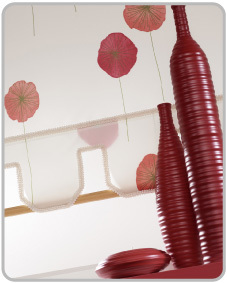 Roller Blinds, Bradford, Leeds, Wakefield, Halifax and Beyond.
DMS roller blinds provide the perfect combination of style, quality and performance. Whether the look you want is simple yet sophisticated or glamorous and elegant, the options afforded to you from DMS® allows you meet your exact roller blinds needs. DMS's operating systems allow you to raise or lower your shade with the minimum of fuss or effort. DMS® manufactures all of our own roller blinds so you can rest assured that quality is designed in from the very start.

The roller tube is made from aluminium and the component parts of high quality engineering thermoplastics whilst the brackets are powder-coated steel. Select either the side control chain mechanism or the spring operation to provide effortless performance wherever required.

The extensive collection of DMS® fabrics will provide you with choices beyond compare and with DMS® you can rest assured that whichever selection you make you can make it with confidence. DMS ensures that all fabrics are dimensionally stable and colour fast to international standards, so when you're looking for a quality roller blind for your home make sure that you ask for DMS® roller blinds by name.